Welcome to the Sunima Library, a repository of lore surrounding my fantasy setting. I tried to make the site as accessible as possible, so feel free to look around and let me know what you think.
751 articles and 10,933 edits since August 2013.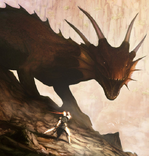 Gauro are large wingless dragons that dwell in the Farah Mountains. The creature has four horns on its head, webbed feet, spikes along its back and a tail that ends in a blade. They are rightfully feared by the locals, as they are so big they can devour a human whole.
Read more...

Community content is available under
CC-BY-SA
unless otherwise noted.